Why would a healthcare professional/executive start a blog?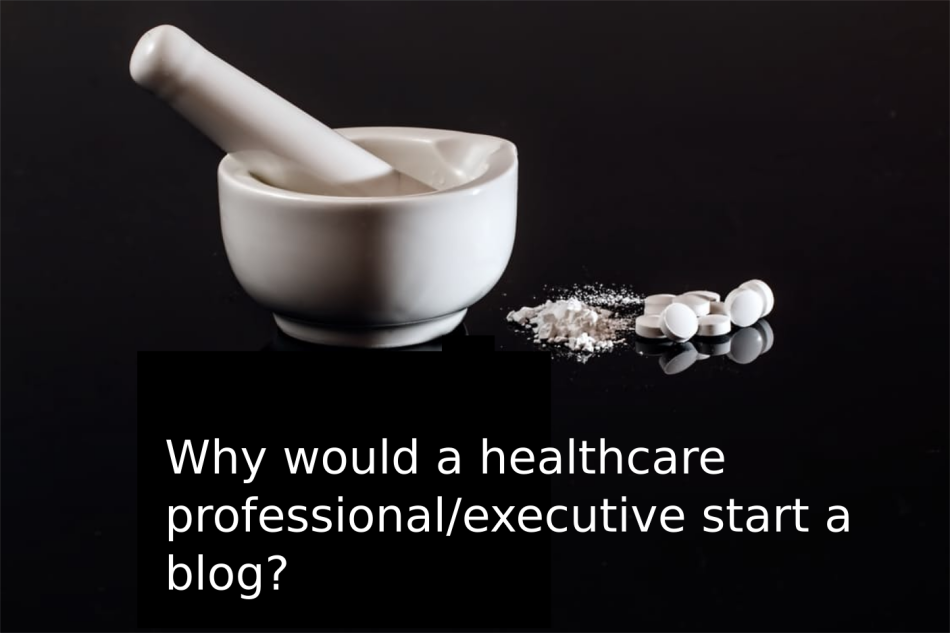 WRITTEN BY BILL BROWN

"Bill Brown's writing is different from any 'professional' out there. This is the first sentence in his 'About Me' page: The profession of pharmacy specifically, and the healthcare system in general, are rife with hypocrisy. He's straightforward and tells you exactly he thinks. It's refreshing, and he has years of experience in healthcare as a professional and executive to back up the stuff he says which means he has broader knowledge than most."

How did you make the change from a health professional (pharmacist) to a healthcare executive and entrepreneur?
Bill: I knew very early after I graduated that retail pharmacy was not for me.  I felt overeducated and under engaged right from the start.  Even way back then, skill as a store keeper seemed more important than the pharmacology/pharmacognosy I just spent 4 years toiling through.  I actually started out university in medicine, and switched to pharmacy as an undergrad.  No regrets, I would have been a terrible doctor.  After about 4 years in pharmacy, I wrote my LSATs and was headed for law. 

Just at the last minute (I was working for a small chain called Top Drug Mart at the time), I was asked if I would like to leave the store and take on the position of Director Of Operations.  I decided to give "management" a try.  The rest is history.  I never looked back.  I held positions in the C suite eventually and then started my own company.  Conclusion: my management and business career was largely serendipity.
Why did you make that transition to the business side of healthcare?
Bill: To me, business is a highly creative environment; this attracted me.  I liked working with people, and driving an organization to a stated goal.  I discovered that I had leadership skills and the ability to find and attract highly successful people.  Any success I have had has only been because of the skills and determination of others.
What were the biggest lessons learned from starting your first business(es)?
Bill: You need way more capital than you think.  It takes longer to reach success than you think.  You will spend more days crying than laughing.  But at the end, the thrill and satisfaction of winning is not comparable to anything else in life.  It's incredible.
Why did you start blogging? What are your goals with blogging?
Bill: I was retired for many years after I left the insurance business.  I tried golf and cottage life, but it was not for me.  I came back to my roots…pharmacy, to get me going again.  I was shocked at what I found.  Pharmacy had changed irrevocably.  A once proud profession was now a tool of big business.   The worst part for me was the hypocrisy.  Everyone involved: academia, the regulatory bodies, especially the associations, were and still are in denial.  I have never encountered so much silo thinking, and cynical self-interest, in my entire career. 

I blog to expose the hypocrisy and to implore young graduates not to accept their fate and spend the next 30 years in a 12 by 24 cubicle in a grocery store next to the deli and produce department.  I see talented people, with their spirits broken by business interests which sacrifice the profession at the altar of commerce, and I get really upset…hence I blog. 

What are 3 of your favourite books?
Bill: Macbeth, The Art of War, The Iliad of Homer
Final comments!

If I had to distill what drives me to reach out to the next generation into a single sentence it would be this:  It is critical for each individual (whether a pharmacist or anyone else) to accept responsibility for their own destiny, and not accept what life throws at you; seize life by the throat every morning and bend the future to your own will.
---
Bill is a long time senior executive/entrepreneur in the healthcare sector. Recent focus has been in the pharmacy/medical clinic arena, specifically in Methadone Maintenance Treatment as an owner operator/developer of facilities in two Ontario cities.
If you want a NO BS perspective on the realities of the Canadian healthcare system, read his blog
here.
Share
your comments below. Know of any other "NO BS" blogger with skin in the game?