How can you make your competitive advantage last forever?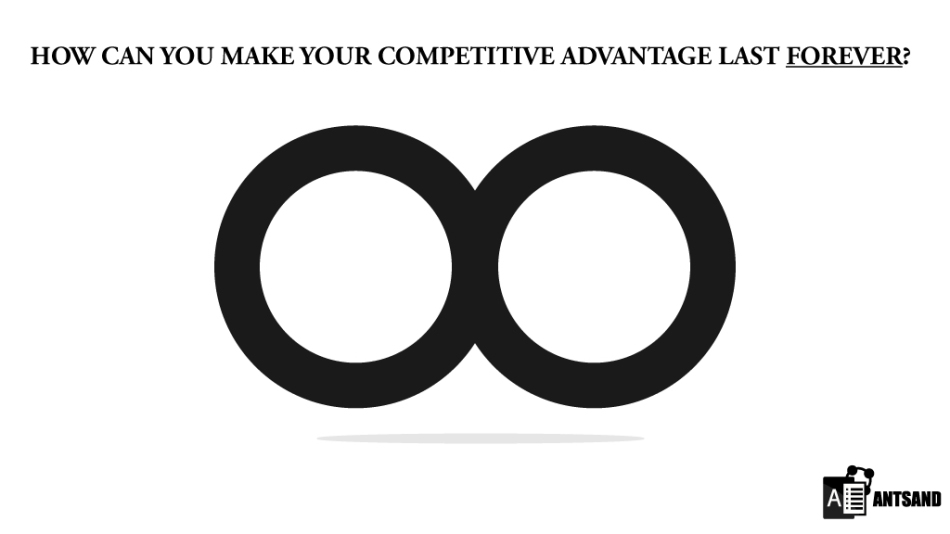 Successful competitive differentiation doesn't happen at the 50,000' level; separating yourself from your competition "in the clouds" is aspirational at best. 
It makes you feel good to have the objective, but little happens to turn it into a reality.
Why is successful competitive differentiation difficult to achieve?
Attention and focus need to be applied to the specific performance drivers of differentiation rather than stating the aspiration and expecting that somehow it will be achieved and maintained.
The aspiration is easy, but if you don't bear down on the detailed elements that in harmony produce a believable differentiation claim, you will merely have a "wish and a prayer" that will never happen. And your competitors will eat your lunch.
These action items will continue to successfully differentiate you from your competition. 
 1.
Create the strategic context
 to define what your competitive claim should "look like" and prioritize the capabilities required to realize it. And review your strategy at least once a year. If your world is changing faster, consider quarterly reviews. Successful differentiation over many years must change as competitors change their tactics.
 2. Avoid trying to get your competitive claim "exactly right" and focus on execution. Refine your claim as you see the impact it has on your markets during implementation. 
 3. Translate your differentiation strategy down to the employee level. Successful execution demands that each person in the organization understands specifically what they must (and must not) do to make a positive contribution and avoid dysfunction. 
 4.
Repel the idea of mass anything
 and focus on taking care of individual customers. A sustainable competitive position is not achieved by targeting mass markets, but by earning the right to do business with each customer every day. Let the competitive herd have the mass markets.
5. Resist the urge to replicate best practices as a tactic to maintain your strategic position. Copying "the best" is a non-starter for differentiation. You may get operational improvements from copying but you will NEVER stand-out strategically. 
Pour your resources into finding ways to be different from the crowd not the same as members of it.
 6. Cultivate a
leadership culture
() where leaders ask "How can I help?" rather than "Do this!" as the vehicle to clear roadblocks and enable execution.
Successful long term differentiation = servant leadership
. Period.
7. Constantly
be looking for ways to surprise customers
 with what they don't expect. When people are both surprised and delighted by what you do for them
it is highly unlikely they will leave you
for another supplier. 
8. Replace the notion of customer service with
serving customers
. You service computers and automobiles; you serve people. 
Building a customer serving culture where customers are treated in an exemplary way cannot be easily replicated by competitors and will sustain itself in the long run.
 9.
Hire the right people to deliver a serving culture
to both employees and customers. Recruit people for any position in the organization based on their proven ability and innate
desire to serve others
. 
Revise your interview process; ask every candidate "Tell me a story that shows how much you care about your fellow human beings". If their story is heartwarming, emotional and gives you goosebumps HIRE THEM. If not show them the door regardless of their academic pedigree.
Sustainable competitive advantage is achievable by these proven tactics; they worked for me.
YES, you need a solid strategy to follow, but if you don't have a culture that is built to serve people - employees and customers - your competitive claim will stay as a wish on paper.
Being the customer favourite forever isn't rocket science; just hard work.
---

Roy Osing (
@royosing
) is a former President and CMO with over 33 years of leadership experience covering all the major business functions including business strategy, marketing, sales, customer service and people development. He is a blogger, content marketer, educator, coach, adviser and the author of the book series 
Be Different or Be Dead
.